The Vanilla of Madagascar
​ Madagascar vanilla is known for its unique and subtle flavor, with notes of honey and a slight smoky touch. Its texture is also very appreciated, with soft and fleshy pods. Because of its exceptional quality, Madagascar vanilla is one of the most famous and prized vanillas in the world.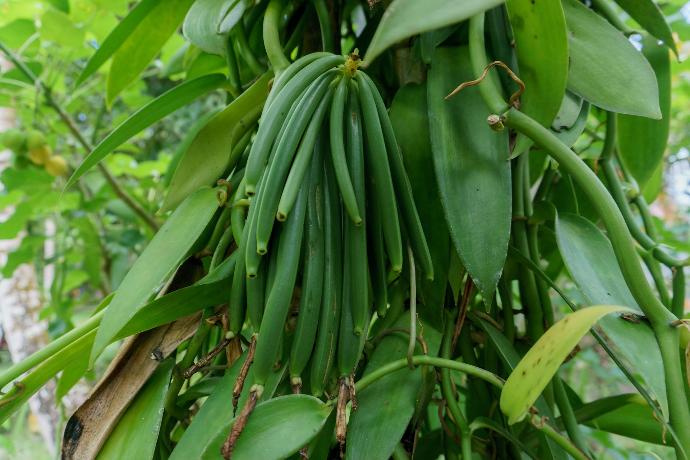 An exceptional product
Madagascar vanilla is recognized as one of the best vanillas in the world, its reputation is due to the exceptional quality of its beans. Obtained not only thanks to the ideal climatic conditions that allow it to develop its subtle aromas, but also the cultivation of vanilla in Madagascar is surrounded by traditions and ancestral know-how that allow to preserve the freshness of each pod. The vanilla of Madagascar is therefore not only a quality product, but also an emblematic product of the red island and its culture.
The black gold of Madagascar
Vanilla is a spice appreciated worldwide for its rich and fruity aroma. It is obtained from the Vanilla Planifolia orchid, a tropical plant that grows in the semi-humid regions of the Indian Ocean and the Pacific. The cultivation of vanilla is very complex and requires a significant amount of labor to perform the pollination, harvesting and drying operations. Moreover, the vanilla plant is very sensitive to climatic hazards and can be affected by pests and diseases. All these reasons explain why vanilla is considered a rare and valuable spice.
Vanilla production areas in Madagascar
Vanilla is cultivated in the lands of Toamasina, Antsiranana, Mahajanga and Sava.
The regions of Toamasina, Antsiranana and Mahajanga benefit from a tropical climate ideal for the cultivation of vanilla. The vanilla growers of these regions are recognized for their know-how and expertise in the production of this precious spice.
The region of Sava, located in the northeast of Madagascar is also renowned for its production of quality vanilla. Its tropical climate and fertile soil make it an ideal land for the cultivation of the black gold. The Sava region has four main cities that are known for their vanilla production: Sambava, Antalaha, Ambanja and Maroantsetra. Each of these towns has developed its own vanilla identity, with unique varieties and aromas.
Sambava is particularly known for being the vanilla capital of Madagascar. It is surrounded by numerous vanilla plantations and houses several processing plants.
Ilanga Nature's bourbon vanilla, organic or natural

​ You will find our vanilla, in pods or in powder, in various formats that will suit your consumption rhythm. Discover also our vanilla extracts, with or without seeds, according to your tastes and recipes.
A social project and a positive impact on the environment
The activity of Ilanga puts back many families in the middle of a sustainable activity in their lands of origin. And it brings them closer to the nature that surrounds them, of which they become ardent defenders in that they depend more than ever on it for their livelihood. People protect Nature, which rewards them in return.

Your Dynamic Snippet will be displayed here... This message is displayed because you did not provided both a filter and a template to use.